Merritt Island Mosquito Control
Safe & Effective Mosquito Control Products in Brevard County
Mosquitoes are more than annoying. They cause itchy, red welts and spread deadly diseases to humans and animals. At Green Wing Lawn and Pest Services, we offer mosquito control in Merritt Island and Brevard County to suit every need. Whether you are preparing your yard for a graduation party, wedding, or special event or just want to protect your family and pets from harm, we offer services that are tailored to your needs.
Please call (321) 499-9114 or fill out our online contact form for more information and a free estimate for mosquito control.
Dangers Posed by Mosquitoes
The weather in our area of the country is ideal for mosquitoes. Florida is home to about 80 species of mosquitoes and 33 of these are potentially hazardous to humans and animals. While people often think about mosquito-borne illness as something that happens in third-world countries, mosquitoes have spread the disease to people throughout the United States.
In the United States, mosquitoes have been known to spread:
West Nile Virus
Chikungunya
Zika
Eastern equine encephalitis
Heartworm in dogs
While the Center for Disease Control (CDC) recommends using an insect repellent with DEET to protect against mosquitoes, this is not enough to make your yard safe for your family and pets. We offer mosquito control in Merritt Island to help eliminate mosquitoes and provide tips for addressing potential breeding grounds on your property.
For reliable mosquito control services on Merritt Island, contact us online or at (321) 499-9114 today!
Environmentally Friendly Mosquito Control
You don't have to choose between being environmentally conscious and protecting your family from mosquito-borne illness when you call Green Wing Lawn and Pest Services. We offer safe and effective services for Brevard mosquito control in Merritt Island. Our technicians use high-quality products that are safe for humans and animals.
Our mosquito control services include addressing potential breeding grounds and treating daytime resting areas to keep mosquitoes away. The exact services and frequency of service depend on the features of your property and your specific needs. We can work with you to determine the level of service that is best suited to your needs and provide a free estimate for Brevard mosquito control.
In2Care® Services in Merritt Island
In2Care® Mosquito Traps are the perfect solution for Aedes mosquito control for your home or business. These traps offer a low maintenance option for homeowners hoping to curb the spread of dangerous Aedes mosquitos that can spread Dengue, Chikungunya, Yellow Fever, and Zika virus. The traps can last for a month before needing a refill. This type of mosquito spreads life-threatening diseases, and a robust control plan is the only way to curb mosquito population growth around your home or business.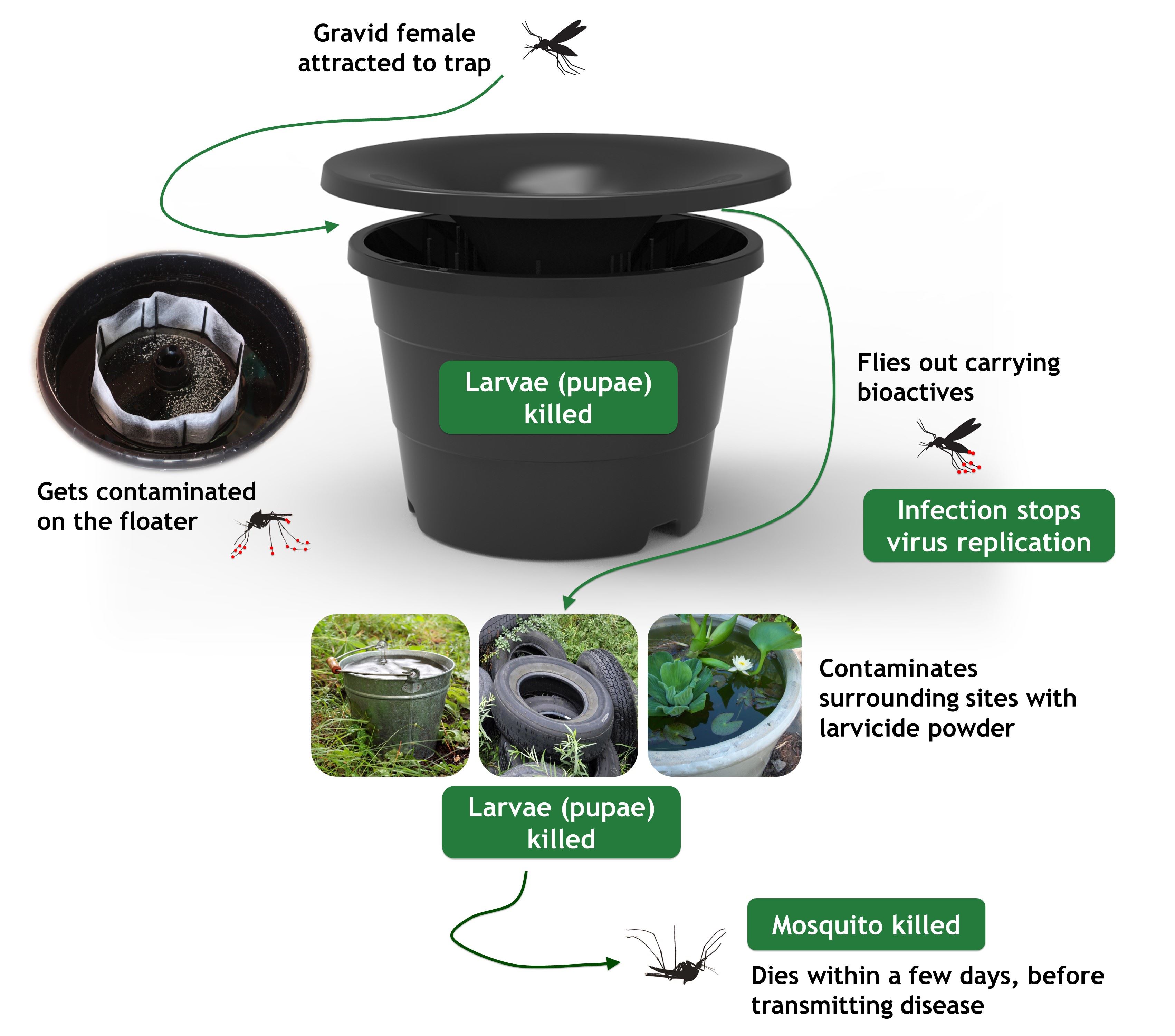 In2Care® Mosquito Traps ensure:
The larvae inside the trap are killed
Prevents larvae growth in nearby areas
All exposed mosquitoes are killed
Halts virus spread
In2Care® Mosquito Traps are the perfect mosquito control solution. They offer many benefits to home and business owners. They are easy to use, require no external power source, and no assembly is needed. These traps are an innovative means of mosquito control because they use mosquitos to spread the larvicide. In2Care® Mosquito Traps lure mosquitos to the traps by emitting an odor favored by egg-laying Aedes mosquitos. Once inside the trap, the mosquito is infected with the larvicide.
An Integrated Approach
In order to eliminate mosquitoes, it is essential to locate areas that are conducive to breeding. Mosquitoes breed in standing water, even a small amount of water. We can identify these areas of your property and any containers that may collect water that is later used as breeding grounds by mosquitoes.
Common mosquito breeding grounds include:
Empty pots for plants
Birdbaths
Clogged or damaged gutters
Buckets or containers in the yard
Check around your house for any places where standing water may be collecting and remove any possible places where mosquitoes may breed. Keep your gutters clean and in good working condition to avoid having mosquitoes breed inside the gutters. Schedule an appointment for professional Brevard mosquito control with our pest control specialists to help keep your yard free of pests.
Further Reading
Give us a call today at (321) 499-9114 for safe and effective mosquito control service in Brevard County.
Celebrating Our 10th Year of Servicing Brevard County

Friendly Service from a Family Owned & Operated Business

Up-to-Date Training for All Technicians

Lagoon Friendly Lawn Treatments

Proactive Measures Taken Between Treatments

Effective Services for the Best Possible Results